DIY Fire Starters
by Cheryl L. McClure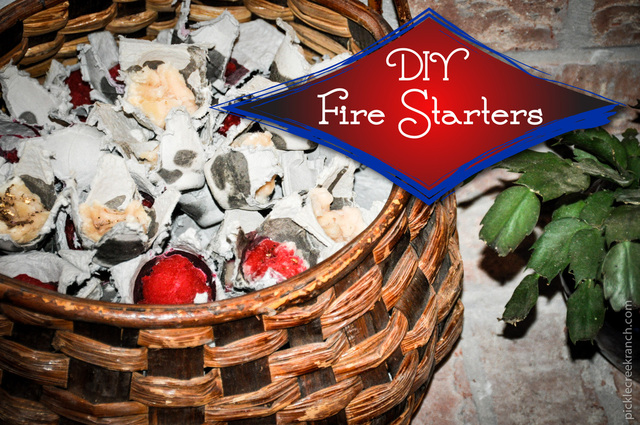 I thought about doing this for a long time, after I read about it on the
Taylor-Made Homestead blog
. It looked so simple and all I needed to do was DO IT! As you can see in the blog, there were straightforward instructions so I followed along. By making this useful item, I will use up some things that I would have otherwise thrown away.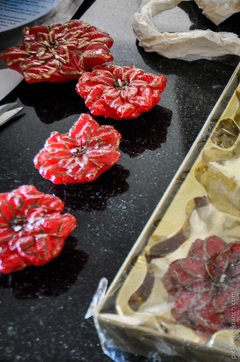 Once all the moons and stars aligned, I discovered I had some partially melted "floating candles" that had been in the attic with Christmas decorations. I guess that was the last straw. We already had paper egg cartons and when I unpacked my antique nativity set for the umpteenth time, I saw it as an opportunity to repackage it with fresh tissue. I took out the old cotton fiber that had clung to the wooden manger year after year and decided this was one of those "use what you've got" moments that Tammy talks about in her blog!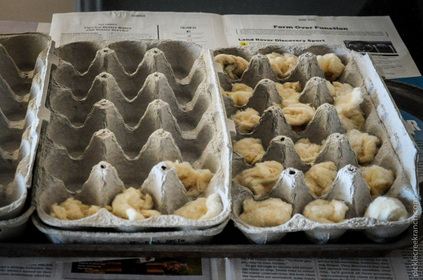 Line your counter with old magazine paper or paper bags to protect in case of spills. Open egg cartons and place on a baking sheet, setting side by side so they are right next to each other. Fill each egg dimple with fiber, shredded paper or fabric.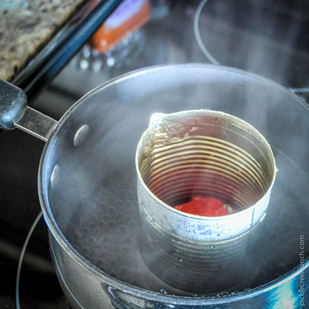 Crimp a soup or vegetable can to make a pouring spout. I used a 14.5 oz can.

Place your 2 qt saucepan on the stove and heat the water to boiling. Add chunks of wax to the can and make sure it's heavy enough to sit in the water without tipping over, otherwise you'll have to hold it with tongs like I did when I got down to the last bit of wax.

Melt the wax through and carefully lift it out of the pan of boiling water holding it carefully with your glove. As far as I'm concerned, there's no room for error on this part!! Too hot and too messy to clean up not to mention if you were to get burned you would not be a happy camper!

Pour gently onto each filled dimple, heating, melting and pouring until all are filled.

Allow to cool and set. It won't take long. Started with the box cutter, cutting down each row through the raised parts and then turn over and score between each filled piece. You don't have to cut the entire thing all the way through, just enough to make it easy to tear them apart.

Now that another cold front has arrived, you are ready to use them in the fireplace!


I hope the moons and stars align for you too so you will find this activity practical and useful in your home during the cold winter months. And if you're in a sunny location, you could always use them to fire up that chiminea on the patio!


Have a good one!
Cheryl @ Pickle Creek Ranch