Poblano Pepper Powder
by Cheryl L. McClure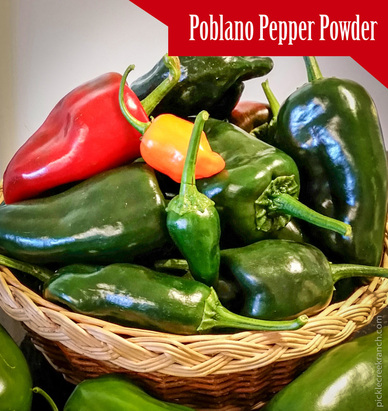 News Flash!!
I have found that my favorite pepper to cook with is a poblano!! This picture shows my poblanos plus an orange habanero in there too, just for color! I will use the habanero to make
garlic-pepper tea
to use in my garden this year.
Last spring, I planted a banana, bell pepper and a poblano pepper plant on the south side of the house in the flower bed making an edible landscape. I wish I had taken a picture when it finally grew tall, about 4 ft. and was full of poblanos. It was slow growing at first since we had lots of rain and then it was so hot last year and we had a period of drought. But wow, when the temps changed and it got a break, it took off and produced an abundance of peppers!
I froze a lot of my peppers whole as I do when I have excess jalopenos. Those are great to add to stews or to use to make hot sauce but poblanos have a milder heat, I think. I like to use them in stews and soups and I even added my poblano pepper powder to our black eyed peas! I have a favorite recipe for sweet potato poblano soup. You can get it here:
Sweet Potato Poblano Soup
I make it every fall and winter and we L O V E it!! All the more reason to love it when we can grow our own poblanos, right?
As far as harvesting and storing, this time I wanted to try something different, so I got out our old Ronco dehydrator that we hardly ever used before we moved to the country. I put on my latex gloves and seeded and cut all the peppers into little squares about an inch or so. I wasn't very consistent, and it would probably be better to make the sizes more uniform. I laid them all out on the dehydrator trays with the thickest ones at the bottom.
I cut the tops off of each pepper and cut the stem to shorten the height and laid them out on a separate tray since they will dry at a slower rate. These were the ones that were on the bottom tray. Once the tops are dried they can be used in stews for flavoring but would be taken out of the stew so you don't accidentally bite into a stem!
Anywho, with this dehydrator, I let them dry about 24 hours and checked, picking out the dry ones and rearranging the others on the tray to continue drying. I found that when they sort of clank in a glass bowl, they're pretty well done! Then I let them sit a while with no lid on to make sure they are good and dry and cooled off. If they're mushy at all, they go back in the dehydrator.
Be sure when you use your dehydrator, you use it according to manufacture instructions.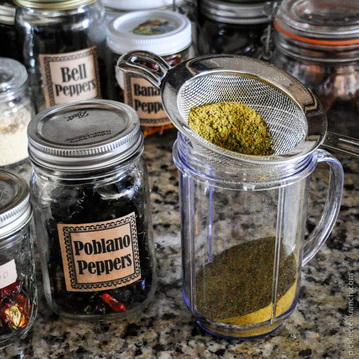 I have rehydrated some of the poblanos in hot water to make them soft again, but THEN, one day I had this bright idea! Haha (well it was bright to me anyway!!) I thought, why not grind them up into a powder to sprinkle on any variety of dish where I want some added flavor!! So, into the Magic Bullet they went, and as I ground them up and poured them into a glass vessel, I noticed there were some larger pieces that didn't break down. That's when my mesh strainer came in handy. I simply ground all I wanted to fill the jar and then strained it to get the larger pieces to run through the Magic Bullet again. Now I have the powder to a consistency I like.

Now, I'll tell ya, when we are gone all day hunting fossils in the North Sulphur River, there's not always time left to cook a real meal when we get home. That's when the frozen pizza comes out and we add poblano pepper powder on top and a little extra cheese to make it REAL good! LOL

Hope you give this a try and see how much zing you can add to your cooking!

Happy pepper powdering!!
Cheryl @ Pickle Creek Ranch

#peppers #poblano #soups #stews #cooking #pizzatopping #flavoring