Raindrops are Falling!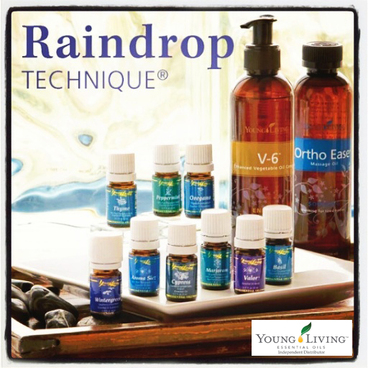 I am so grateful! Have you ever found something that was just so, so helpful and wonderful that you want to tell everyone about it?

Ever since I was introduced to Young Living, I have learned more and more about what is good for my family. From skin care, to cleaning, to meal shakes and supplements, there are all kinds of ways to improve what we use and apply in our everyday lives. And then there's the essential oils. Normally, when I apply essential oils to myself, I am very conservative and use one or two drops, usually on my wrists, behind my ears, sort of like applying perfume. A drop of Joy will go on my heart! Drops of oil go on the bottom of each foot, or on the top of my feet.

The Raindrop Technique is the result of combining ancient Lakota wisdom with the latest in essential oil research. By integrating gentle massage sequences with specific essential oils, Young Living has created an experience that balances energy, releases toxins, and facilitates open energy flow throughout the body. In addition, this will aid the body's natural response to irritation and injury by supporting the immune, respiratory, nervous and other body systems. Another advantage is to ease occasional muscle, bone and joint discomfort with Raindrop and improve immune system functions. Also, essential oils cross the blood-brain barrier and effect the limbic system where emotions are stored resulting in emotional well being and release.

The oils used are Thyme, Peppermint, Oregano, Wintergreen, Aroma Siez, Cypress, Marjoram, Valor and Basil. Carrier oils are V-6 and Ortho Ease. Carrier oils are used to dilute the hot oils when necessary, and carry the oils across the skin.

When I go to get a Raindrop, multiple drops will go down the spine like raindrops and they begin to do their thing as the facilitator works them into my skin! From the bottom of my feet to the crown of my head, as the oils are applied, I inhale them and I can feel the tension melt away.

Do you recognize this snippit of art?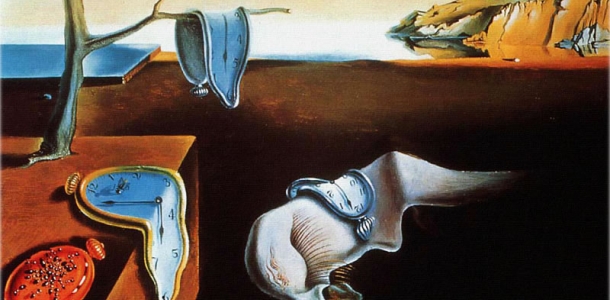 Does the name Salvador Dali ring a bell? What does that have to do with anything? Well, just imagine being face down on a massage table and having your facilitator incorporate the Raindrop Technique on your body. About halfway through the session I thought of this picture because I felt like my head was going to melt and drip through the face cradle!! Hahahaha! Talk about stress relief!
After the session ended, I continued on with my day as the oils progressively worked through my body. I drank water to aid in flushing out harmful toxins. I felt deeply relaxed. It was so r-e-l-a-x-i-n-g and good for my body. Need I say more?
The cool thing about this, is that all the oils and instructions are available for the at-home Raindrop session. I would be glad to help you sign up here if you need assistance>
Essential Oils
. This is also something a person could choose to do in their Young Living business after becoming qualified and certified.
If you are in the Dallas area and are looking for someone to facilitate this for you, contact me and I will give you their information!
All being said, I hope you are doing well, and if not, I might just have an oil for that!
Happy Oiling!
Cheryl :)