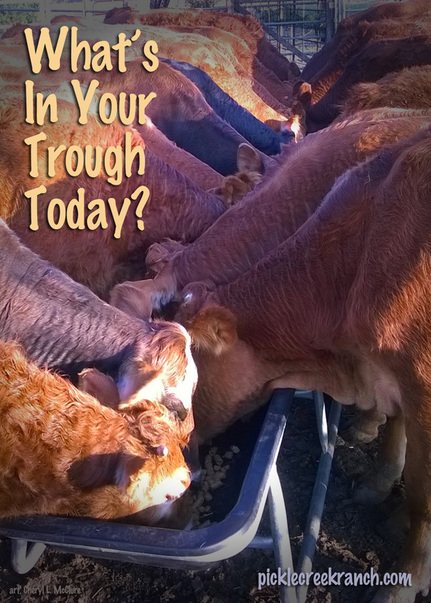 by Cheryl L. McClure
We all have to eat!! Dogs, cats, cows, donkeys, people... What's in YOUR trough today? I'm talking about what YOU are eating - in the HUMAN trough! LOL

Is your pantry stocked with good healthy choices?

Even though our cows have the finest prairie grass hay to eat in the winter time, and they graze on acres free of pesticides and any kind of chemical, we still supplement them with feed so they have additional nutrition. I have not used essential oils on the cows, but I have used my essential oils on a donkey before! You can see that story HERE. :)

So, if we can be as intentional about what we feed our animals, why can't we be intentional about what we feed ourselves? Life gets busy so a quick meal is in order, right? We can have one fast AND tasty AND nutritious!! And don't forget those other things that can give your body the boost it needs to stay healthy and fit.


Pure Protein Complete
Pure Protein Complete (by Young Living) is a comprehensive protein supplement that combines a proprietary 5-Protein Blend, amino acids, and ancient peat and apple extract to deliver 25 grams of protein per serving in two delicious flavors, Vanilla Spice and Chocolate Deluxe.
I personally like the Pure Protein Complete (Vanilla Spice) meal shakes especially when I use coconut milk and frozen fruit to blend it up. I change it from time to time and add 2 oz of NingXia Red and/or a couple of drops of Slique Essence essential oil. Experiment with your oils and add flavor and health benefits!
When I use the Pure Protein Complete Chocolate, I add a frozen banana and coconut milk to make my chocolaty desert smoothie. MMMmmmmm It really is yummy and makes a great dessert too! Hmm... just thinking I might even try adding a drop of Nutmeg or Cinnamon.
Note these blends are SOY FREE.
For information and ingredients in Pure Protein Complete-Vanilla Spice go
HERE
.
For information and ingredients in Pure Protein Complete-Chocolate go
HERE.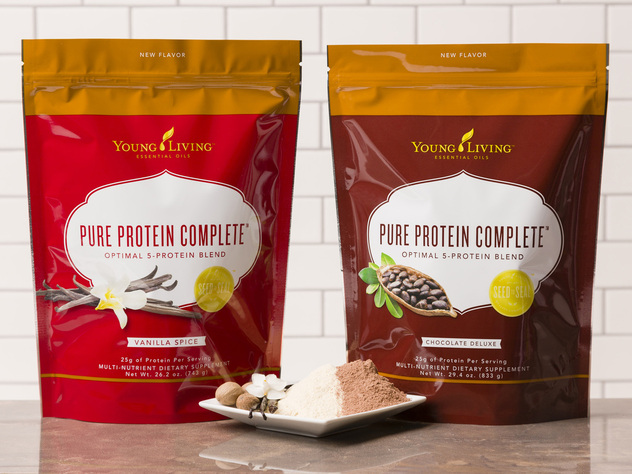 Water and Essential Oils
Another part of diet includes drinking water. What would we do without water? Adding essential oils like Lemon or Grapefruit to my water helps to detox and address occasional food cravings. Citrus oils include the naturally occurring constituent limonene.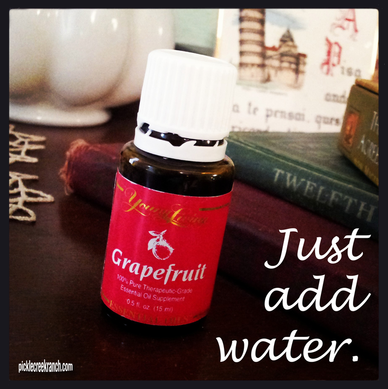 Supplements
What we eat is important and when we don't eat right all the time, that's all the more reason to supplement our diet. I post a lot and talk a lot about therapeutic grade essential oils, but Young Living has a whole line of supplements tailored to meet your every need from weight management, to supporting all your body systems! Basically, Young Living is here to help you to be the healthiest you can be!

One of my personal favorites is Sulfurzyme.

"Sulfurzyme® combines wolfberry with MSM, a naturally occurring organic form of dietary sulfur needed by our bodies every day to maintain the structure of proteins, protect cells and cell membranes, replenish the connections between cells, and preserve the molecular framework of connective tissue.* MSM also supports the immune system, the liver, circulation, and proper intestinal function and works to scavenge free radicals.* Wolfberries contain minerals and coenzymes that support the assimilation and metabolism of sulfur." ~ Young Living

There are many more supplements tailored to fit your health goals. The product line is here>
PRODUCT LINE
Sign up for the
Best Bang for Your Buck
- to get the best deal!! Check it out and if you need help in finding something, please contact me.
Happy Oiling!
Cheryl L. McClure • YL Distributor #1176855 •
www.picklecreekranch.com
#balance #nutrition #health #smoothie #powder #enzymes #youngliving #essentialoils