Traveling with Essential Oils
​by Cheryl L. McClure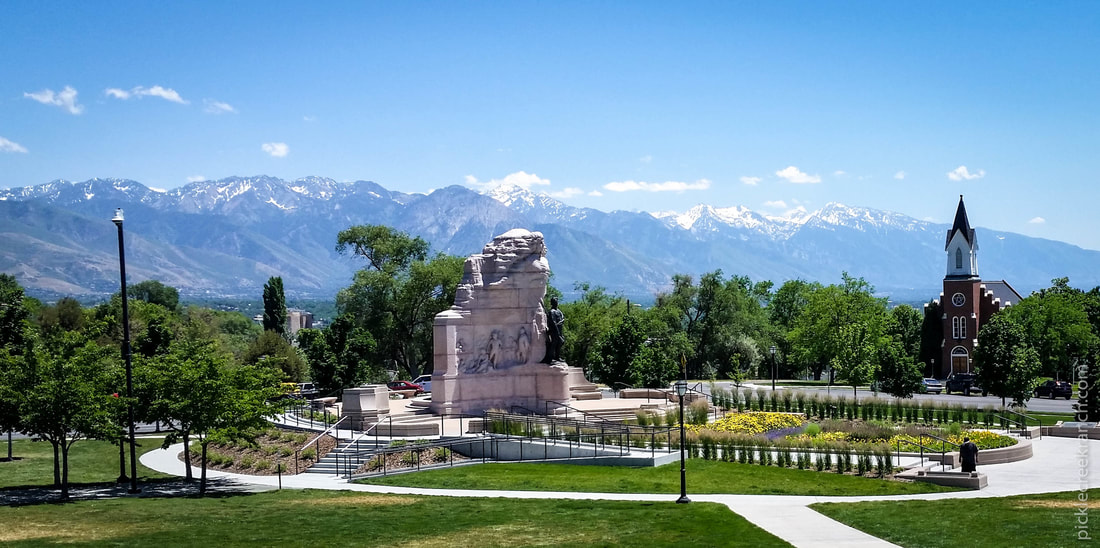 Do you travel much? I don't very often, but I learned a valuable lesson this time!

Recently I took a trip to Utah and I experienced a drastic change in climate that affected me in ways I had not expected. Salt Lake City is a beautiful place to visit and my friend and I rode the TRAX rail system, each day to get to the convention center from our hotel. We arrived Tuesday afternoon and by Thursday afternoon my face was red, my sinuses inflamed. I felt as though I was going down, like the Titanic, feeling miserable, I could hardly breathe through my nose. It was simply a case of my body reacting to the climate differences. From humid Texas to dry Utah!!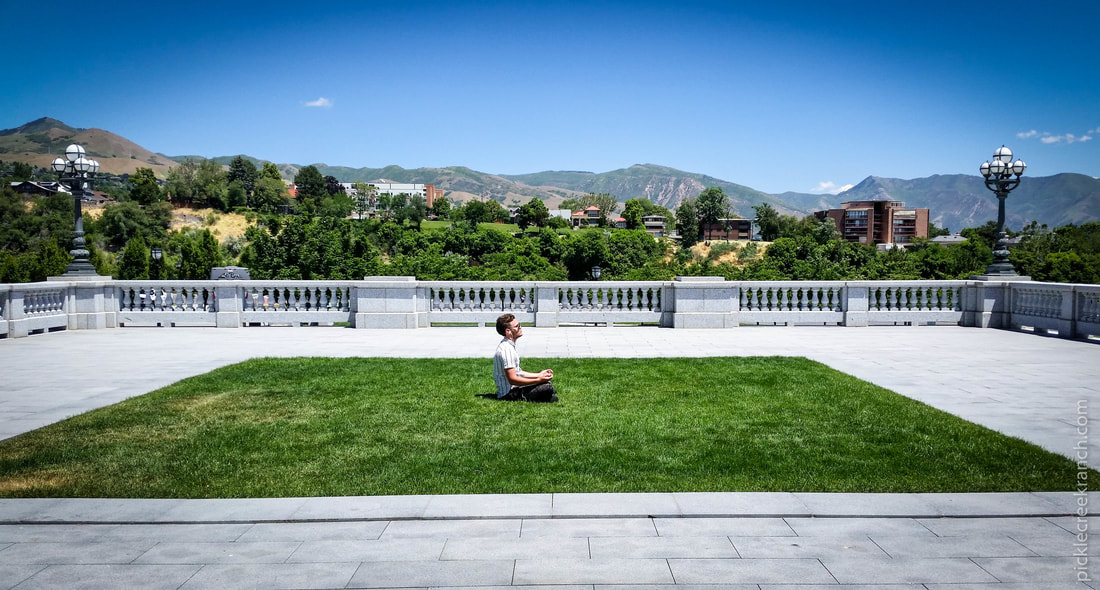 Now, this guy was on the capitol lawn and he had it going on!!

Here's a concept - listening to your body. Do you listen to yours? Especially, when you are rocking along in life and something changes in it, do you recognize the differences?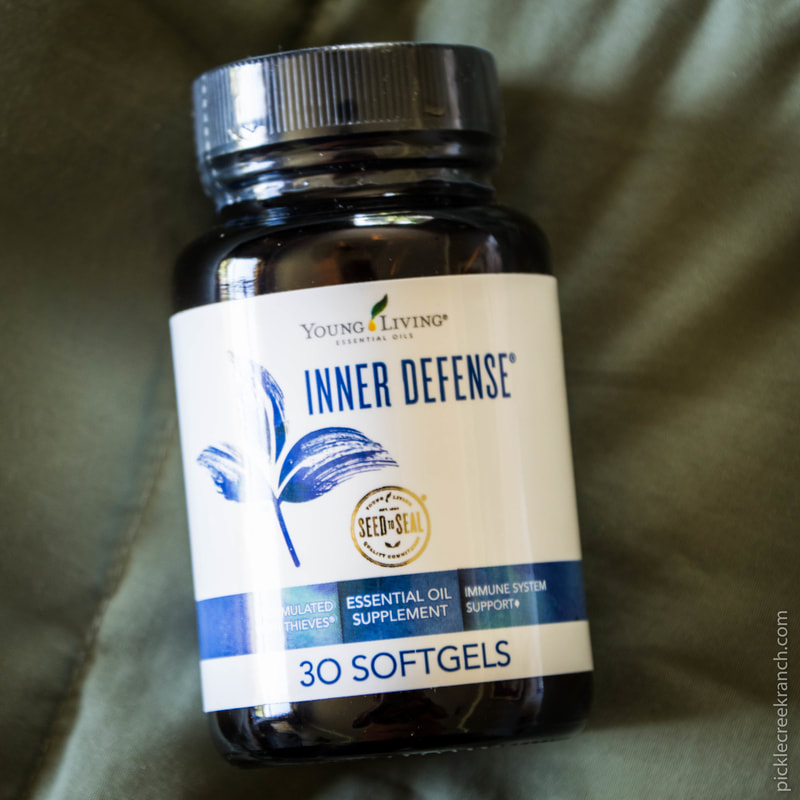 Well, here is what I did: I scavenged some salt from the restaurant and a straw to make a flush for my sinuses that evening. It felt soothing when the salt water poured over the inside of my sinus cavity. I was still pretty sore and did not feel good, but, luckily I had thrown my bottle of Inner Defense in the bag when I was packing!
Did you know that
Inner Defense
basically contains Thieves in a gelcap? Per the YL website, it "reinforces systemic defenses, creates unfriendly terrain for yeast/fungus, promotes healthy respiratory function". Just what I needed to fight back. I began taking dosages that night when I got back to the hotel. The instructions say "Take 1 capsule daily in a.m. or take 1 capsule 3-5 times daily when stressed."
I was desperate and wanted to make sure I could go to the farm the next day, so I took additional doses during the middle of the night as I was not sleeping well and kept thinking, I want to go to the farm tomorrow!!!! I didn't go way overboard but realizing that the way oils need to be reapplied for effectiveness, I thought this would increase my chances of fighting off the reaction.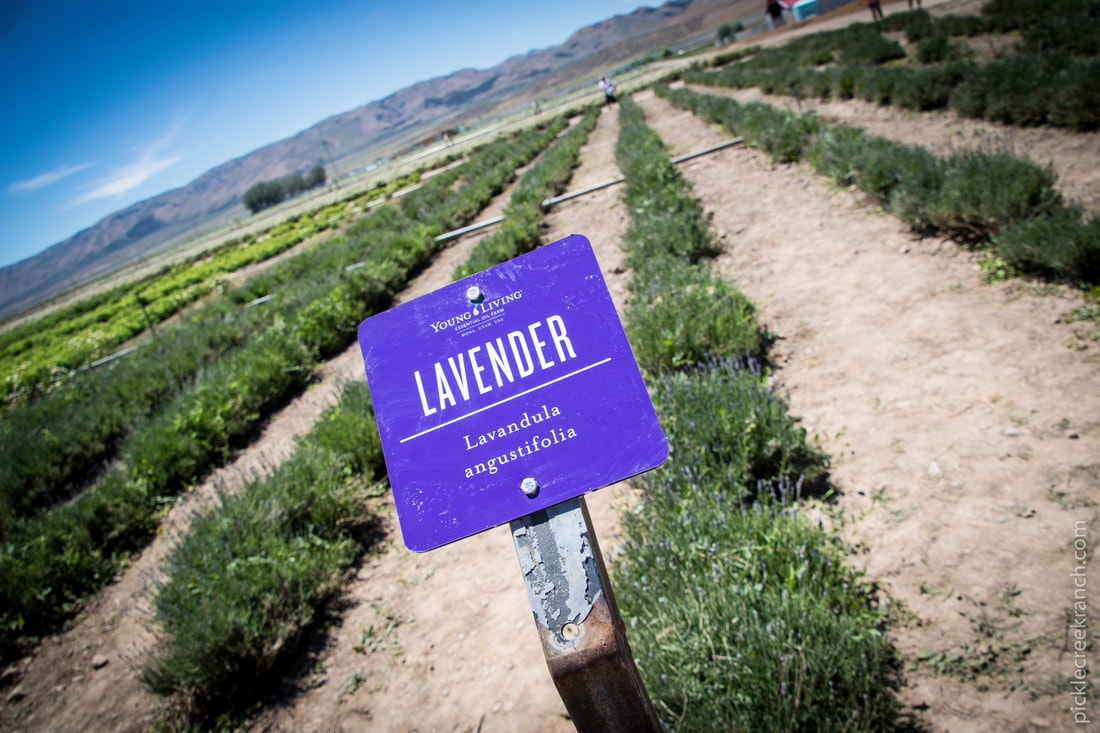 By the time we went to breakfast I was better, well enough to walk to the TRAX and get on the shuttles to the
Young Living farm in Mona
! And feeling well enough that I was able to enjoy the rest of the trip with my friend and traveling partner, Debby! We are standing in front of a field of Goldenrod.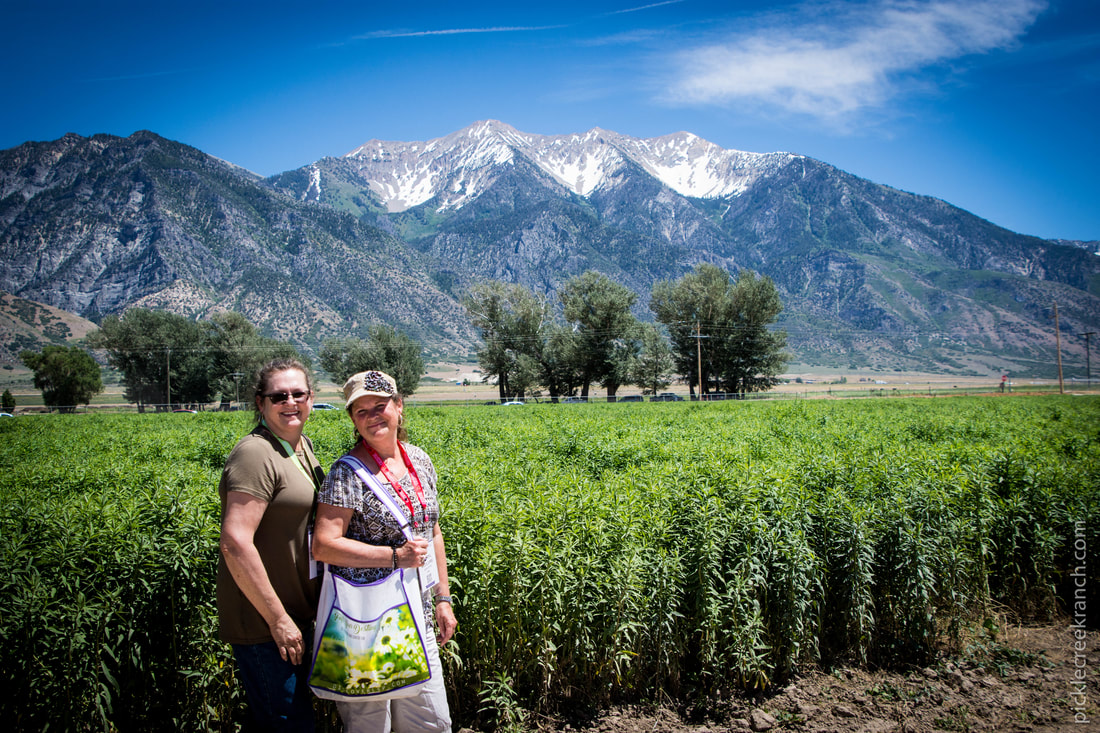 The Basics
Some basics to travel with are my must haves!! I take my little pouch with the 2DM oil bottles, Deep Relief, Stress Away, Thieves Hand Sanitizer and Thieves Spray!! And some other oils too. Peppermint is a favorite and I carry a 5ML bottle with me all the time - no matter where I go! I will never go without the Inner Defense again and OmegaGize and Multigreens are also on my list to take.
---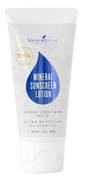 Among other new additions, we had a new
Mineral Sunscreen Lotion
unveiled at convention and I purchased it the day before. I used the sunscreen and we were out in the sun all day long. I had no redness or burning!! Our sunscreen uses naturally derived plant and mineral based ingredients and does not use parabens or synthetics. Woo Hoo!! Another good healthy product to pack in the bag when I go to the beach!
So, all in all, listening to my body enabled me to take action and support my immune system, preventing "it" from causing me issues while I was away from home! Isn't that what healthy living is all about? This type of scenario is an "everyday" thing. It's not a chronic condition and I am not suggesting to diagnose, treat or cure a disease. Be sure and consult your doctor when you have serious issues. But on the other days, when you have some kind of "thing" going on and your body is talking to you, try some of the tools we have. The oils and supplements can make such a big difference.
Happy Oiling!
Cheryl @ Pickle Creek Ranch
cheryl@picklecreekranch.com
https://yldist.com/cherylintexas/​