The North Sulphur River
by Cheryl L. McClure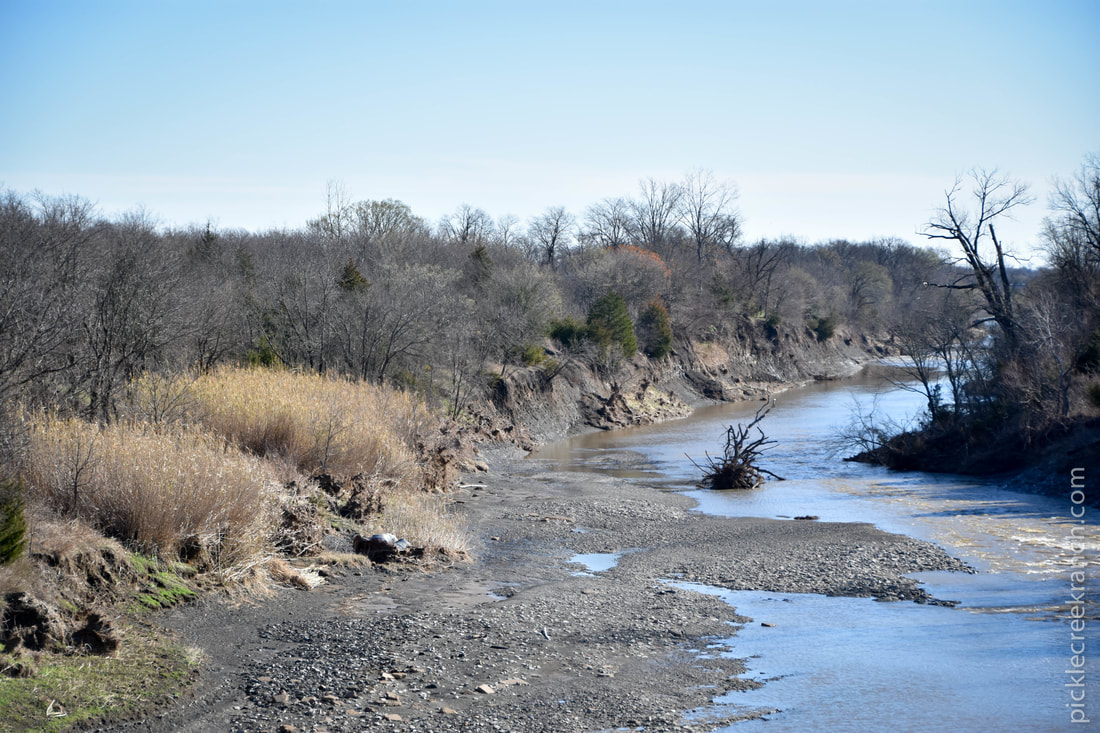 I love nature!! Ever since I was a kid and growing up with three older brothers, I would be exposed to the outdoors. We grew up in Irving and there was a creek behind the house, which back then had lots of opportunity to find fossils! Fast forward to now, and I am well, what they call "mature" I guess. Let's just say I am no spring chicken!! We live near the North Sulphur River, which is in Fannin County, Texas. This particular part of the river is slated to become Lake Ralph Hall one day and before that happens, there are a lot of people fossil hunting while they can!
I've written a bit about the river in
Rainwater at the Ranch
, because at Pickle Creek Ranch, the creek that flows across our property is part of Pickle Creek, which dumps into the North Sulphur River. What would we do without rain and water? And without rain, and erosion in this area, how would we be able to find fossils here?
For those contemplating going into the North Sulphur River to hunt for fossils, I'd like to share some photos and a couple of tips for you. I love to explore and it's nice to know ahead of time, what to expect. I call the North Sulphur River my happy place. Jan Paul does too! It is so peaceful and relaxing to walk the river. We like to pick up rocks and fossils for our garden and when we do find a special fossil it gets a more prominent place at home.
Where to go
First of all, there are several places on the river to gain access, but mind you, this is about a 70 foot descent and not all areas are easily accessible. You can look for creeks under bridges and so forth, but some are going to be fenced off as landowners may not want people wandering across their property.
So for those avid fossil hunters, and those who have families that want to enjoy the outdoors, the best access is on HWY 34 at Ladonia Fossil Park just North of Ladonia, Texas. There is a sign out by the road and if you use Google maps you can find it easily. There are no restroom facilities at the park unless we are having Fossil Day, and this year, 2017, it will be on Saturday, October 14. Be sure and watch for notices on Facebook @
Ladonia Chamber of Commerce
and @
Dallas Paleontology
.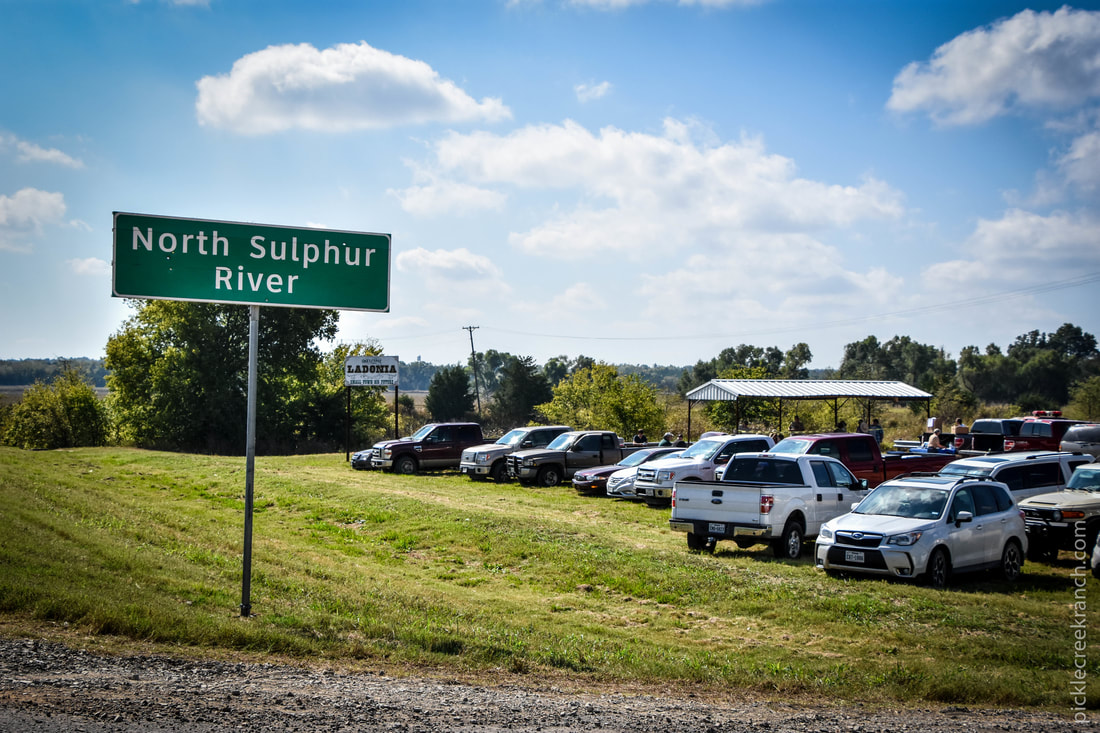 Weather
Weather is well, you know how it is in Texas. We have had sun, rain, snow and tornados all in the same week!! Be mindful of the weather! Check the forecast before you go and note that if it is raining west of the river it is possible that excess water will run off into the river. There have been instances where someone was in the river and almost did not make it out before flash floods did exactly that. Flood. This river can rise in a matter of minutes and if you are not near an exit point, it could prove to be disastrous. The link that can help determine a general forecast is on a specific page at
weather.gov
. Note the area they are pinpointing though is closer to Cooper than Hwy 34. Use your best judgement. Better safe than sorry. ​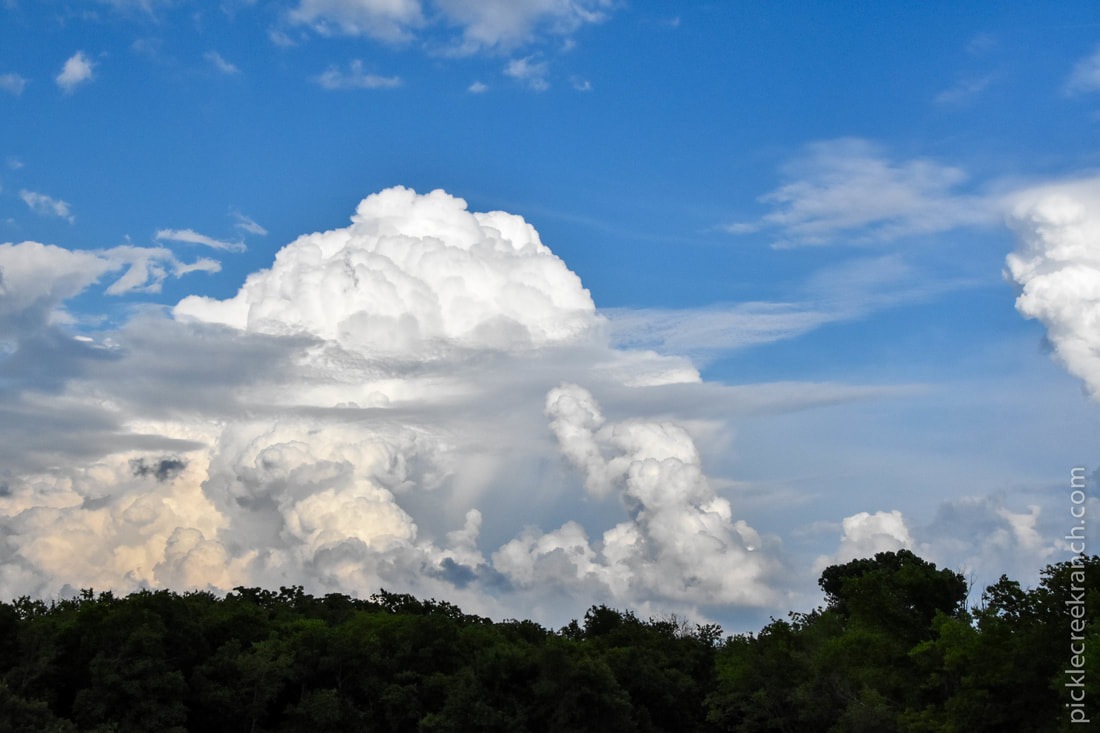 Critters
When visiting the North Sulphur River, keep in mind it is inhabited by others!! When you are out in the country like this, there are a lot of forms of wildlife such as deer, hogs, bobcats, coyote, skunks, armadillo, snakes, spiders, creepy crawly things and on a rare occasion, further east, the alligator! Be aware of your surroundings and be prepared in the event you spot a critter in the river. We have not had any issues but if we see something, we don't exactly go up to it and say hello, unless of course, it says hello to us first. And then we walk away!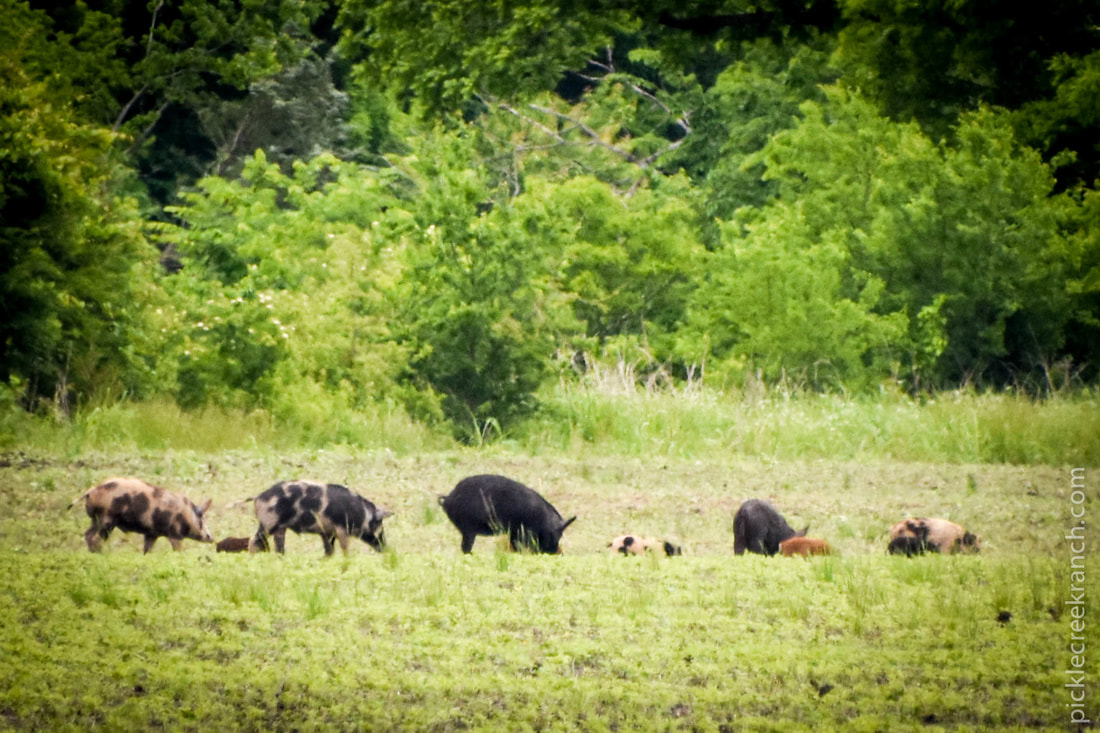 Pack
Especially if it is hot, be sure and carry water. We take a backpack with water,
sunscreen
,
lip balm
, and
Peppermint essential oil
(this is good to have when it is very hot. I use it on the back of my neck and inhale it when needed.) Take light snacks and wear a hat! That sun can cook you like a fried egg!
Along with a backpack, I bring a bag to carry rocks in - those tyvek grocery bags work perfect and I also carry one of those weed poker tools. You know, it's straight and has two points on the end. Jan Paul walks with a long handled garden fork so he can lift pieces in the river. I wear gloves to get in and out of the river too. I don't like to grab trees or rocks or anything without gloves.
​Shoes
On this particular day we went into the river (not on Hwy 34) where it was not so easy but we made our way in and our way out very slowly. Be careful wherever you go because the terrain may be unstable and you need to have good shoes for sure footing. If it has been raining you may want to wear mud boots. Keep in mind that if it has been raining, and there is a lot of clay, it will be slippery.
No Cell Service
It's important to know that there is no cell service in the river. The signals don't go there!! So don't go alone! Well, I only advise against it because if you slip or get hurt there is no one there to help you. That's my two cents. At any rate, you can go with your phone anyway,
so you will have it to take pictures
but carry it in a waterproof container to keep it from getting wet.
Thanks for taking the time to read about our happy place.
Happy Fossil Hunting!
Cheryl @ Pickle Creek Ranch
Young Living Independent Distributor #1176855
yldist.com/cherylintexas/
Fossils are a unique art form themselves, so I designed a tote bag!
Fossils photographed are from the North Sulphur River.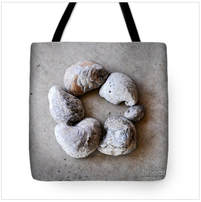 #fossilart #fossilhunting #northsulphurriver #nsr #ladonia #fannincounty #texas #water #river #familytime