PV Assistant
by Cheryl L. McClure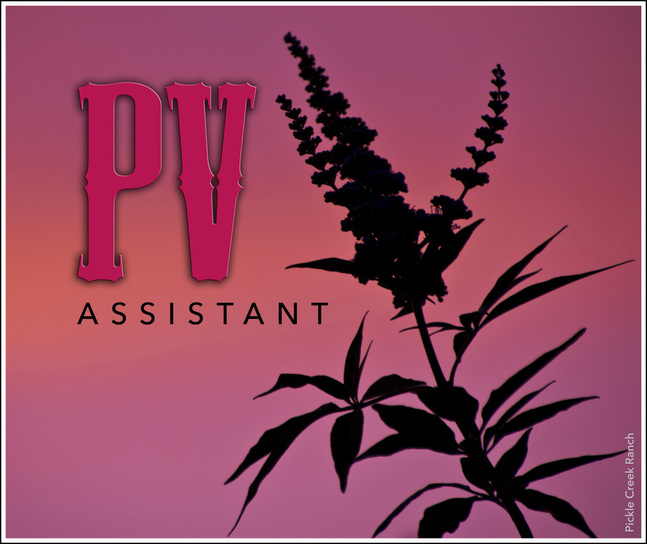 PV Assistant is a service in Virtual office. It's set up so that if something you have on your ER order goes out of stock and you are not aware, it will replace it with another product. This way you are able to keep your PV (product volume) at the level you need to get the promos and earn points. Note that product volume does not always equal the dollar amount so be sure and always check the PV amount before ordering.

What is ER? Have I mentioned I love Essential Rewards?

First, let me tell you I earn points because I purchase and use these products every month. It is part of every day life not just some passing fad. Essential oils is not the only thing on my shopping list. I use supplements to help me stay above the wellness line. A long time ago I started doing transfer buying which means, rather than spend my money at the grocery store, I buy household cleaner, hand soap, lotion, shampoo, mouthwash, etc with Young Living.

Not only am I purchasing non-toxic, healthy products for my home, I am earning points on ER. ER also saves on shipping. BTW here are the reasons you want to be on ER if you aren't already!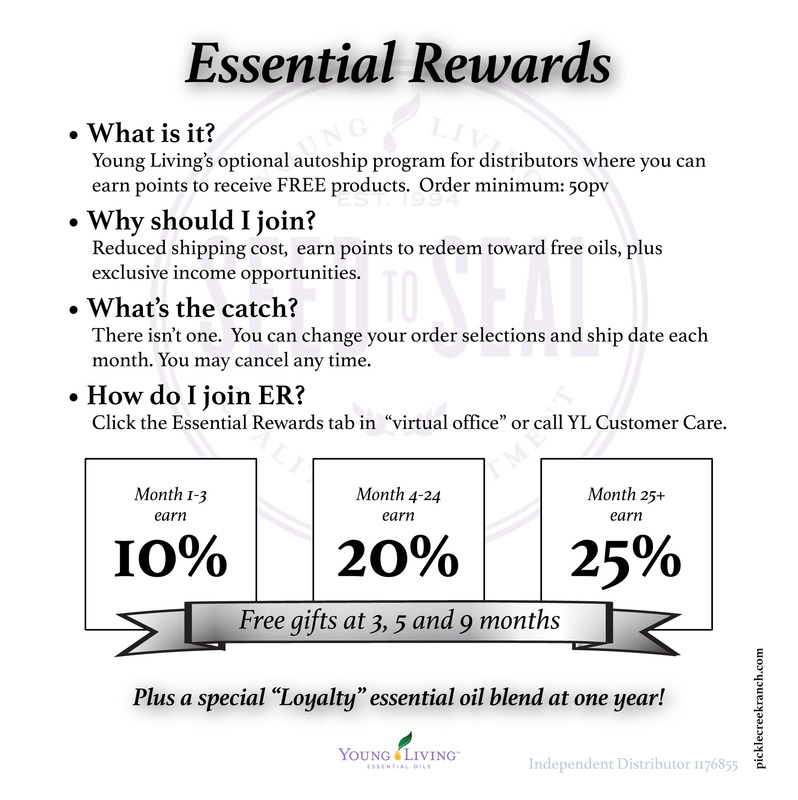 Anyhow once you log onto your computer, sign into Young Living, go to Virtual Office and to Essential Rewards.

Then click on PV Assitant. ​

Note the little pencil next to "PV Goal:" I set mine at 250. You can set yours to whatever you want above 50PV.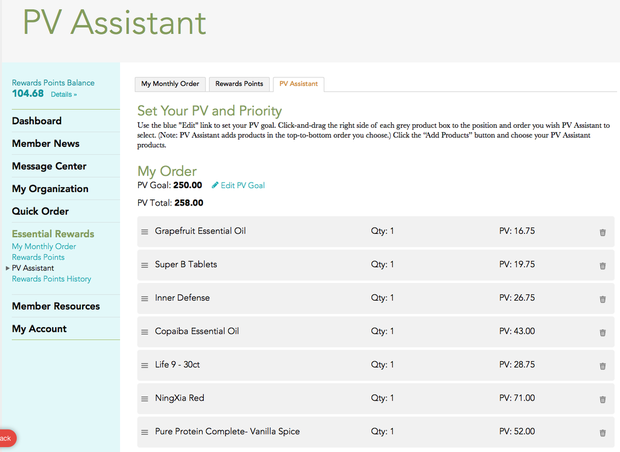 Click on
Add Products
and then just add what you think you might want in case something is out of stock. I stacked mine in order of preference and from lower prices to larger prices. I think they will add from top to bottom till the goal is reached.
I usually check my order ahead of time anyway, but if I forget, this will keep it on track for processing.
If you ever want to know what the current month's promo is, check my website on the essential oils page at
Pickle Creek Ranch
. Scroll down to see the promo.
Also, if you are in the North Texas area, come out to Grapevine and attend one of our classes hosted by Danette and Jim Goodyear. I will update the class info on my website each month as well on the
Classes and Events
page. They present a wealth of information and you will meet all sorts of well oiled folks. LOL. Come on out, have some fun and get educated!
I hope this information has helped you. Happy oiling!
Cheryl @ Pickle Creek Ranch