Enjoying the Harvest
by Cheryl L. McClure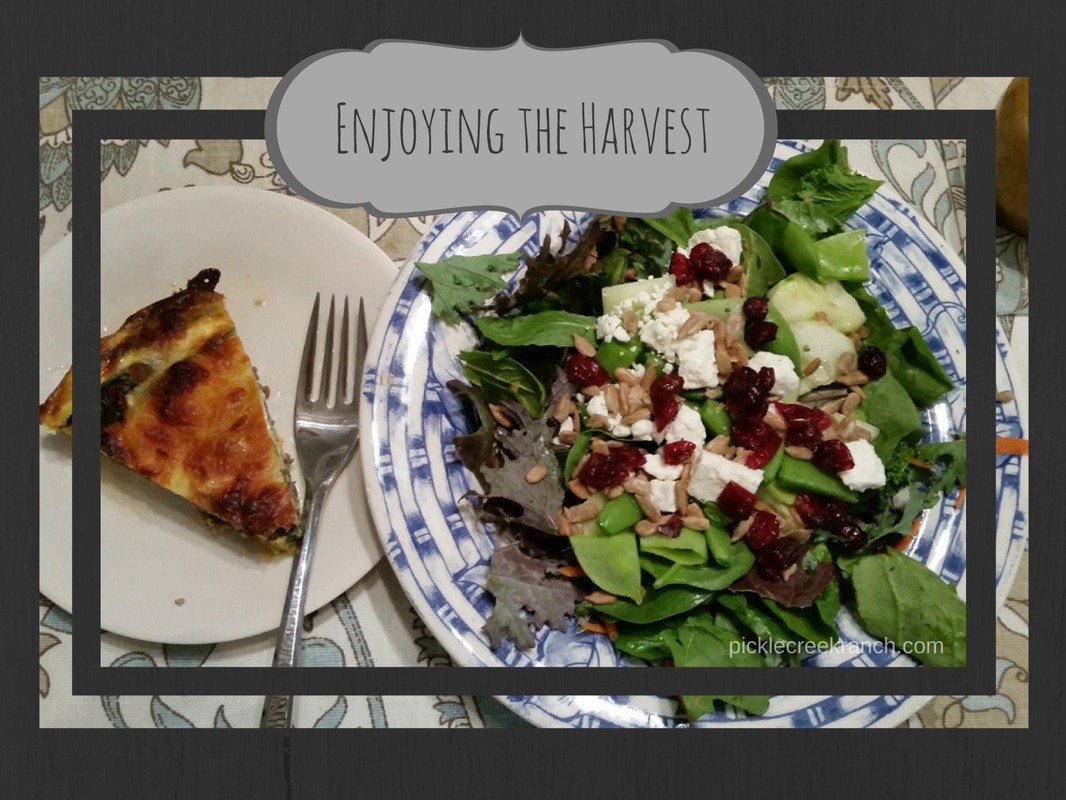 We had a fresh salad and quiche for dinner one night. With an abundance of kale and some other kind of curly lettuce in the garden it made a good start. Add that, some spinach, homegrown snow peas and snap peas, carrots, homegrown cucumbers, sunflower seeds, craisins, feta cheese and mmmmm it makes a great salad! Top it with this delicious Honey-Apple Cider Vinegar salad dressing.
Honey-Apple Cider Vinegar Salad Dressing
I made this salad dressing and it had just the right twang!
| | |
| --- | --- |
| | 1/4 cup apple cider vinegar1/4 cup olive oil1/4 cup honey2 tsp. dijon mustard3/4 tsp salt3/4 tsp pepperAdd two drops of Lemon Vitality essential oil or Orange Vitality essential oil. |
Whisk it all together. Store in a jar and shake each time before pouring.
Crustless Sausage Quiche
For the quiche, we use fresh eggs. It has been a joy to raise ducks and chickens at the ranch. They are not maintenance free, but the eggs they produce are very rich making all the work worth it! Duck eggs are great for baking too. Anyway, for the quiche, I used one duck egg and three chicken eggs, which makes a huge difference in comparison to store bought eggs. All being said, visit your local farmers market if you don't raise chickens!! Once you've had a farm fresh egg, those pale yellow eggs will never match up.
Quiche ingredients:
4 eggs
1 cup of milk
1/4 cup parmesan cheese
1/4 cup feta cheese
1/2 onion (or some green onions) chopped
1/2 cup mushrooms
2 cups spinach or kale
Add cooked, crumbled pork sausage or bacon
1/2 cup of Mozzarella cheese
Instructions:
Preheat oven to 350°
Oil your pie plate
Sauté onion, mushrooms, spinach and other veggies
Pan fry pork sausage or bacon
Add veggies and meat to the pie plate
Sprinkle feta cheese on top
Whisk 4 eggs, 1 cup of milk and the parmesan cheese.
Pour on top
Spread Mozzarella cheese on top
Bake at 350° for approximately 50 minutes or till golden brown and eggs are set.
What I like about this is that you can do veggies and meat or just plain veggies. Cook the spinach or kale till wilted. Mix it up by adding roasted cauliflower or pan fried zucchini and tomatoes. When our
Malabar spinach
starts growing, we will add that too.
There's really no hard fast rule to this. Make it for breakfast, lunch or dinner! Make it Italian by dripping a toothpick in
Oregano Vitality
essential oil and swirl that around in the egg mixture or add herbs.