The Athlete
By Cheryl L. McClure

Are you an athlete or do you have a family member that is? Both of my sons are athletes of sorts and that got me to thinking about what athletes need to support their bodies before, during and after a workout.


James Lawrence is one of our Young Living Ambassadors and 2 time Guiness World Record Holder. He completed his final full ironman 50.50.50 journey; 50 full ironman triathlons in 50 states, in 50 days in 2015. See>
http://bit.ly/1YEP2xb
Pretty impressive, huh? His goal is to inspire others to challenge themselves to be more active.
My goal is to inspire others to make healthier choices.
I did some research in the Essential Oil Desk Reference Book, read testimonials and I came up with a good group of product choices tailored to the athlete. These have all been tried and approved by Young Living members. See additional notes and links below. I would love to hear what Young Living oils and supplements have done for you!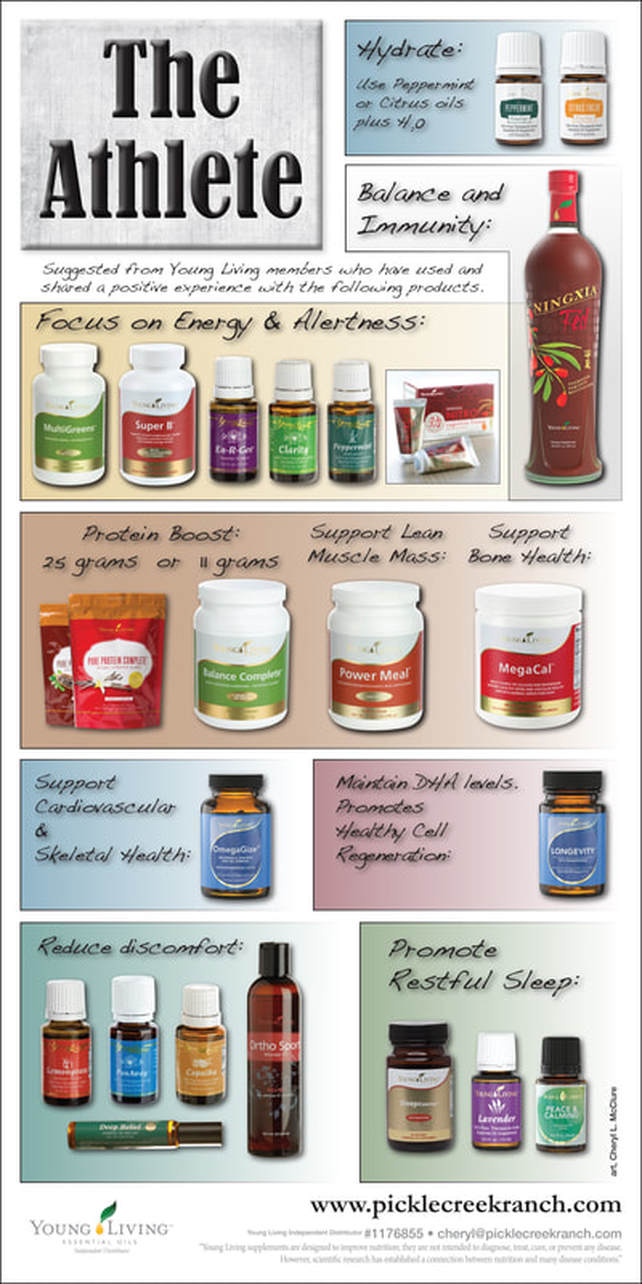 Hydration during work out:
Add
one or two drops of your favorite Vitality essential oil in water. See
Dietary Essential Oils
Popular oils for hydration include the Vitality oils Peppermint, Grapefruit, Lavender, Lemon, Orange, Tangerine, Spearmint, Citrus fresh and Thyme.

Balance and Immunity:
NingXia Red to keep the body balanced and immune system up.

Energy and Alertness:
See
Energy and Stamina
MultiGreens
works with the glandular, nervous, and circulatory systems.
Super B
assists in maintaining healthy energy levels.
En-R-Gee
is uplifting and strengthening as the name suggests, it boosts energy.
Clarity
promotes a clear mind and alertness.
Peppermint
helps improve concentration and alertness and keeps energy levels up.
Ningxia Nitro
for an energy boost before a big workout.
NingXia Red
to keep the body balanced and keep the immune system up
.
Muscle and Bone Health:
Pure Protein Complete
for protein metabolism support.
Balance Complete
for a powerful nutritive energizer and cleanser.
Power Meal
to support lean muscle mass.
MegaCal
for calcium, magnesium, manganese, and vitamin C for bone health
.

Support Cardiovascular and
Skeletal Health:
OmegaGize
benefits from fish oil combining omega 3 fatty acids, vitamin D-3 and CoQ10.
Maintain
DHA levels:
Longevity
protects DHA levels, a nutrient that supports brain function and cardiovascular health, promotes healthy cell regeneration, and supports liver and immune function.
Oils for Occasional Soreness:
Lemongrass
for overall well-being.
PanAway
provides warmth to muscles after exercise
.
Copaiba
for physical discomfort; can be taken internally.
Peppermint
as a driver to push the Lemongrass or Copaiba into the muscles.
Deep Relief
is formulated to relieve occasional muscle soreness. Roll on where needed, it's easy to take with you
.
Ortho Sport
designed for both professional and amateur athletes, produces a warming sensation and provides relief to tired muscles.
Promote Restful Sleep:
SleepEssence
to use if needed to rest easily after workout.
Lavender
for sleep because of being wired from running
.
Peace & Calming
for resting or relaxing
.Not only does Young Living provide general health products, but they have healthy snacks too!! See> http://bit.ly/1Tq0CcC
Happy Oiling!
Cheryl
www.picklecreekranch.com
Young Living Independent Distributor #1176855
For educational purposes only. Not intended to diagnose, treat or cure any diseases. However, scientific research has established a connection between nutrition and many disease conditions.
#athlete #healthy #fitfam #workout #exercise #muscles #health #bone #cardio #sleep #YoungLiving #essentialoils #ironman