Have you ever examined your bottles? Here are a few things you might want to know!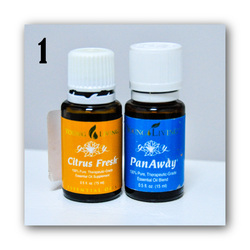 THE FRONT:
Note this is a therapeutic grade essential oil meaning it is of the highest quality.
A single oil is from one plant and a blend of oils is from multiple plants.
The 15ml bottle will have 250-300 drops depending on the type of oil.
The 5ml bottle will have 80-100 drops.
THE BACK:
See the directions on the back of the bottle. Most oils are used three ways: aromatically, topically or internally.
Not every oil is intended to use internally, so be sure and check your label.
There is a batch number above the directions for reference.
Oils are stored in dark bottles to keep their shelf life indefinitely, so keep your oils in a cool, dark place to assure this.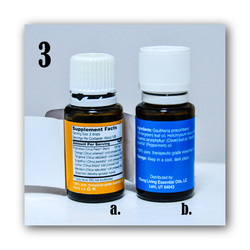 When you look at the back of the bottle note where it says "Peel Here". When you peel back the label there is additional information:

a. Supplement facts with serving info in a white boxed format to be intended for internal use or

b. Ingredients with no serving info. This oil may be used topically or aromatically. It is not intended for internal use.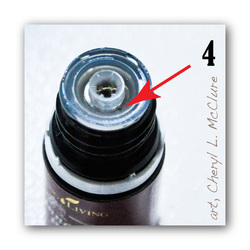 There are different oil thicknesses and sometimes oil comes out fast or slow. See the tiny hole next to the center in the crease? It has a purpose!

With the tiny hole pointed up, oil drops slower. With it down, oil drops faster.

I hope this article was helpful to you!
Happy Oiling!
picklecreekranch.com • Young Living Distributor #1176855
Young Living supplements are designed to improve nutrition; they are not intended to diagnose,
treat, cure, or prevent any disease. However, scientific research has established a
connection between nutrition and many disease conditions.