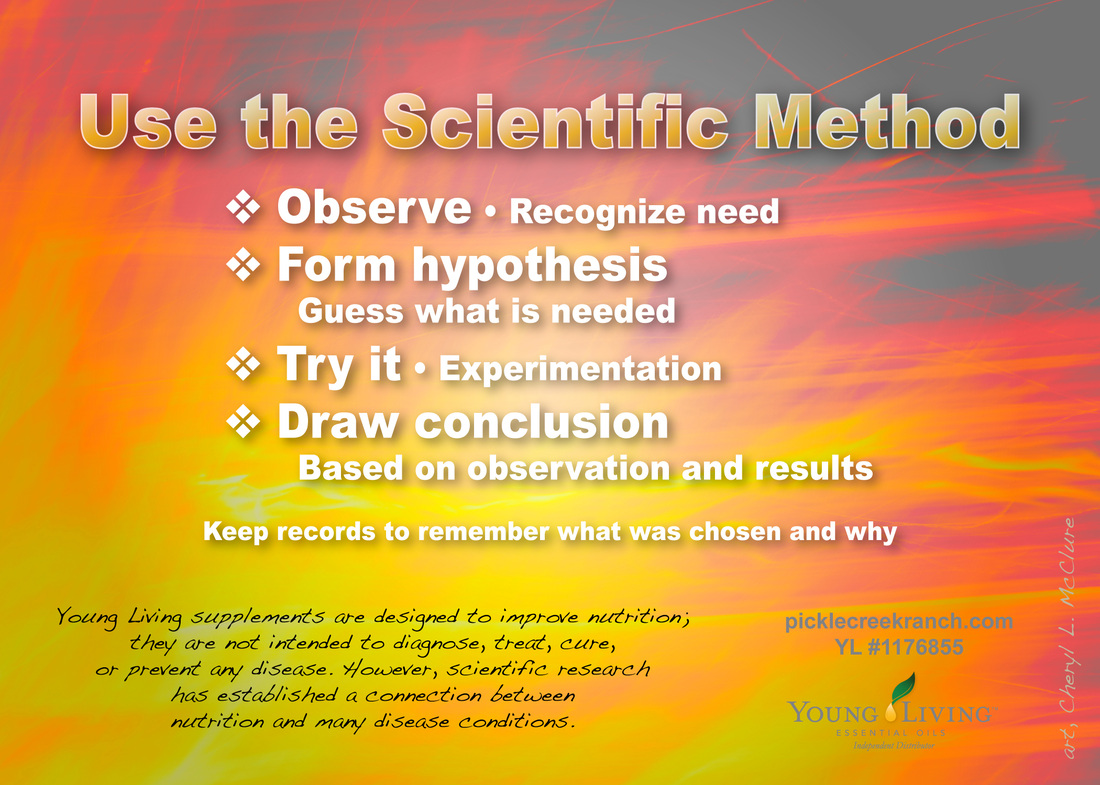 This really breaks it down and is useful for the
everyday, moderate issues
that may come up. When using Young Living essential oils or supplements, follow the scientific method. Get your notebook out or use a spreadsheet to keep track. Be empowered! Give your body what it needs to heal itself the way God intended.
Observe. Recognize the need.
Put it into basic terms, when you are describing what is going on. Ask yourself some simple questions like: Do I have a sore muscle?
Does my head hurt? Are my eyes feeling scratchy? Is there discomfort in my abdomen? Have I gotten too much sun on my skin and now it's sort of red? You know your body better than anyone else.
(ie: I got stung by a yellow jacket and I am experiencing discomfort.)
Form hypothesis. Guess what is needed.
Having a Premium Starter Kit is a great way to get familiar with the oils and to experience what their properties are and what they will do. An
Essential Oils Desk Reference book
or a
guide
is very helpful in determining what oils would benefit your particular issue. I like to use my EO Desk Reference book along with testimonials by other Young Living members through the oil-testimonial link you will find on the
Resource page
.
(ie: I need something to relieve the discomfort from the sting, something soothing for the skin like Purification that I looked up in the EODR.)
Try it. Experimentation.
Just give it a try. See what is recommended in the EODR first. A good rule of thumb when using
Young Living Pure Therapeutic Grade Essential Oils
, is, if there is no change in 10 minutes, apply again and wait another 10 minutes. Sometimes you might need a different oil but sometimes it might just take a little longer than expected.
(ie: Put a drop on each sting and wait a few minutes.)
Draw conclusion.
Based on observation and results.
This is the good part. So, what did you experience and what were the results? Did your oil or supplement help the situation you were addressing?
With some supplements, I have read where it may take up to two weeks to see the most results. Draw a conclusion on what worked based your observation after the experimentation. If you will take the time to keep records on what you did, it will make it easier in the future to repeat the application that improved your issue.
(ie: In the case of the sting, the discomfort stopped within seconds. Now I can record that.)
I hope this information was helpful to you.
Happy Oiling!

Cheryl
Please consult with the medical professional of your choice whether using essential oils or not. Remember that being proactive and taking responsibility for your health is in your own best interest.
I only recommend

Young Living essential oils

because I am confident in their purity and the quality of their other products. I am not a doctor. The information I post on this website is for educational purposes only.

Young Living supplements are designed to improve nutrition; they are not intended to diagnose, treat, cure, or prevent any disease. However, scientific research has established a connection between nutrition and many disease conditions.