Minty Cabbage Slaw
​by Cheryl L. McClure
I had a nice little crop of cabbages growing this year. First ever! I only grew 9 cabbages in all, but the last four were in a shady area next to the house and I figured I would give it a try anyway.

They didn't get large and as spring approached I noticed that something started to nibble on one of them so I decided it was time to go ahead and harvest. I cut the large loose leaves off and fed them to the cows. Have you heard the phrase "how the cow ate the cabbage"? Well, they LOVE cabbage!! When they see me with cabbage they come bounding across the pasture to get a bite. And they eat it with a vengeance!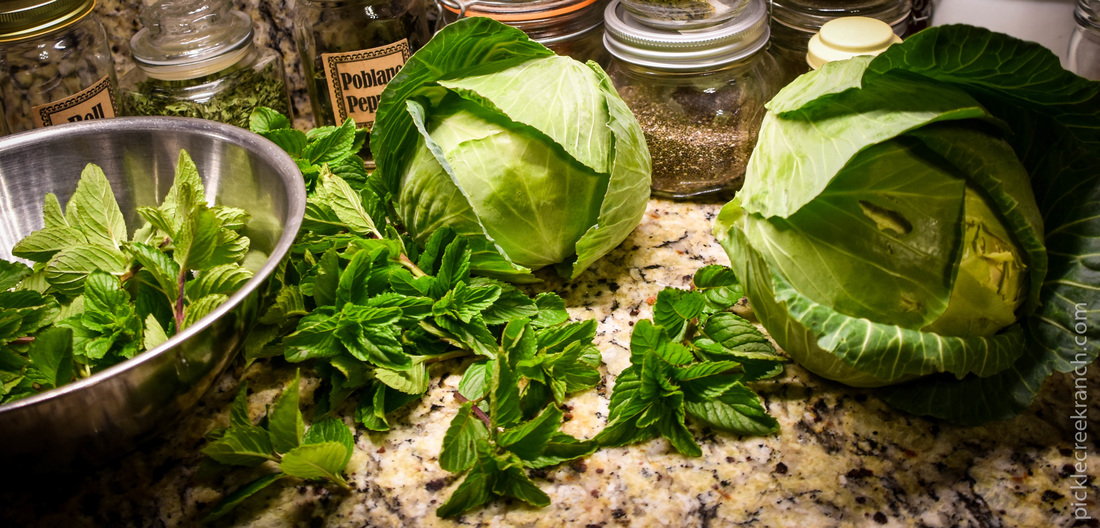 So, I had these two cabbages and decided to use the small one first. This is the only one I needed to make a flavorful slaw. I was so excited because I found a recipe that used mint in it and I am growing mint!!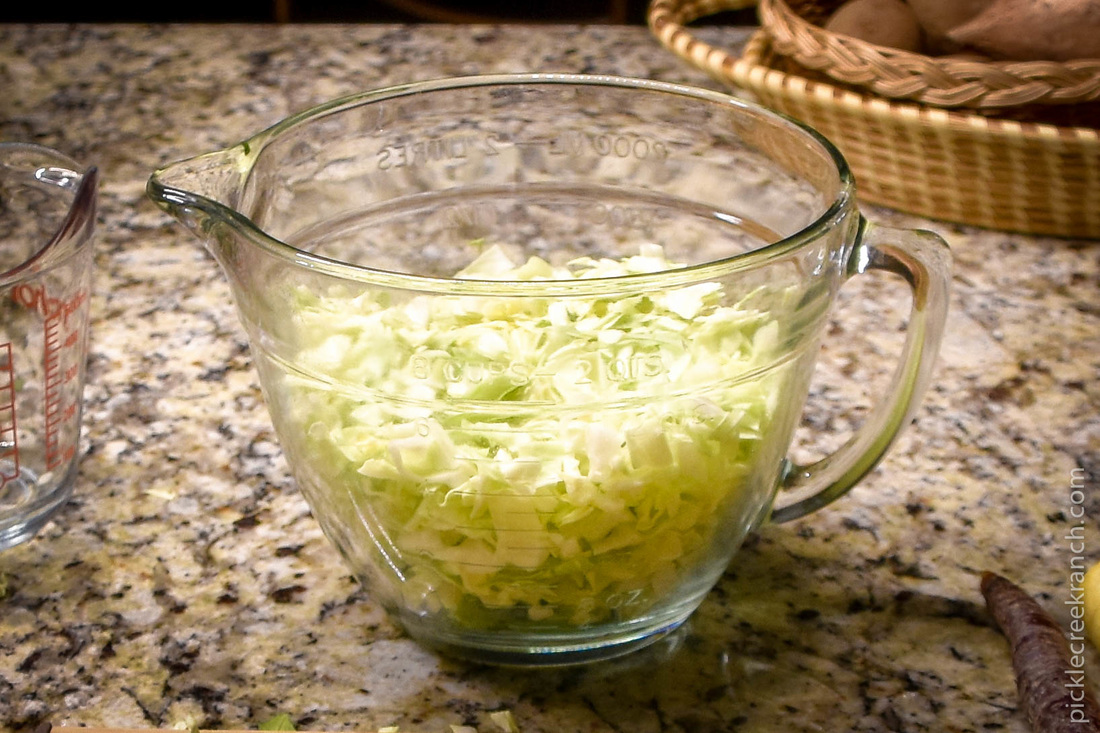 First I chopped enough cabbage to make 4-5 cups. All it took was the smallest cabbage!
Next, I sliced the 4 green onions to make a 1/2 cup. Then chopped the fresh mint to make a 1/2 cup. I think I went a little over, but it was still good! Note - if you are not going to serve it all at once you may want add the mint last before serving. Keep your mint as fresh for as long as possible!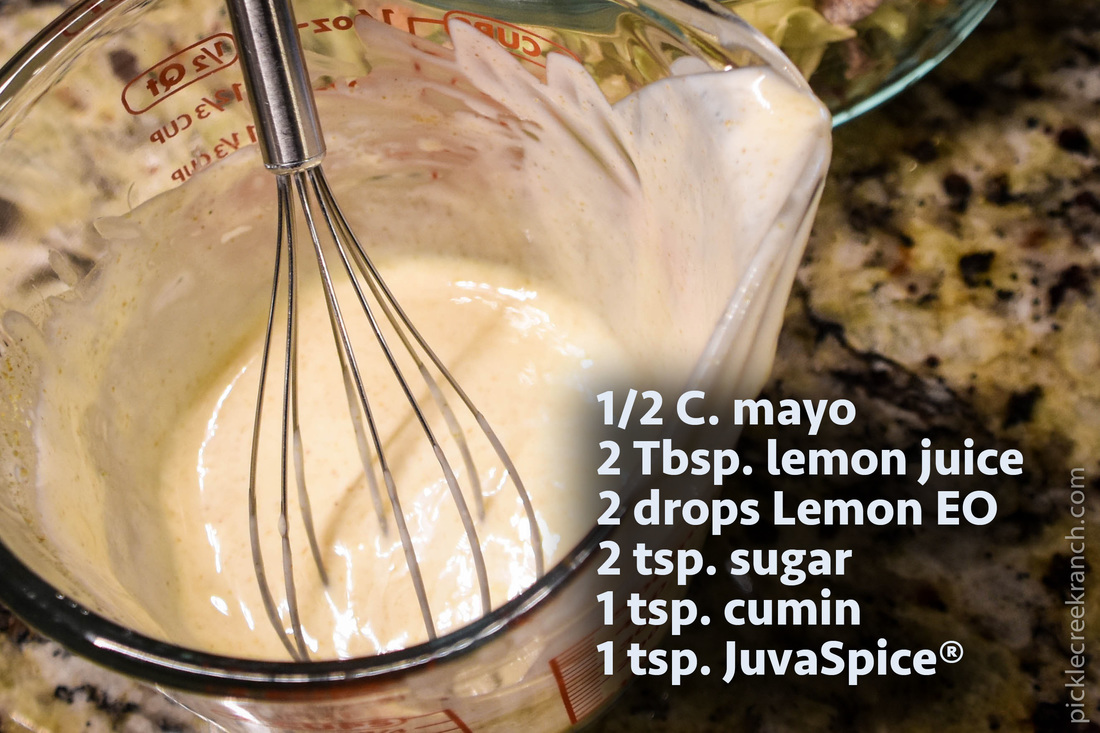 Combine all the dressing ingredients together, whisking till well blended. Then pour and toss with your chopped salad.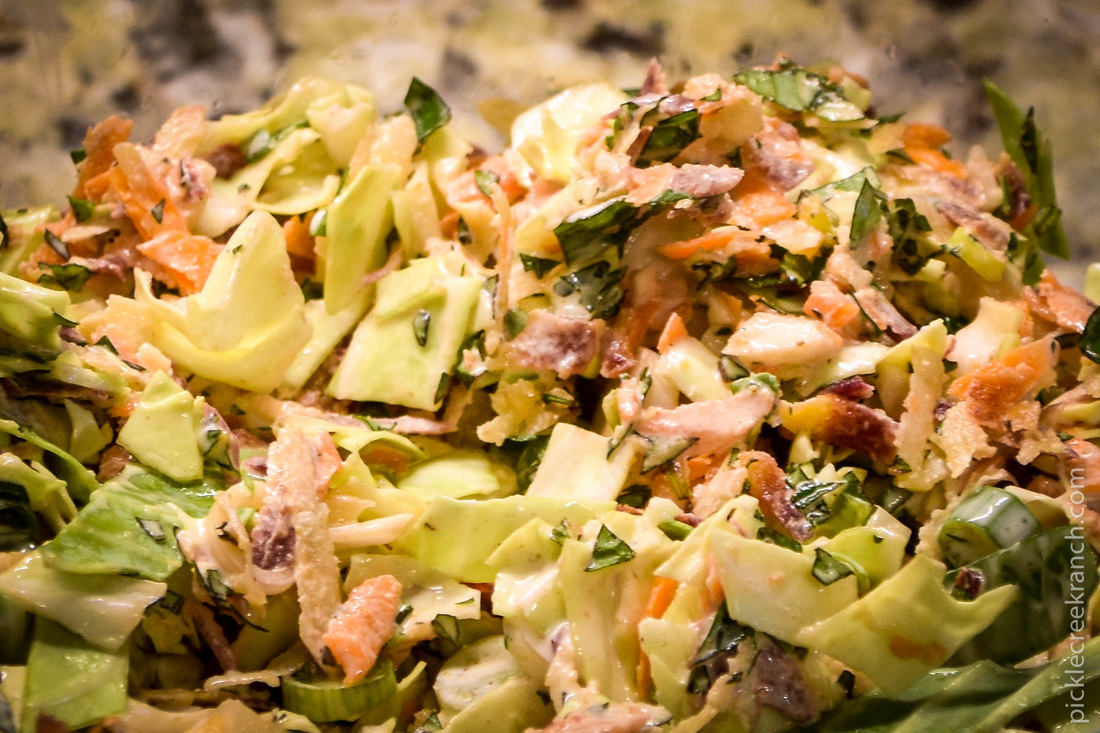 Doesn't it look pretty and colorful? It was a hit at our family gathering. So, here's the rundown:
Salad ingredients:
4-5 cups sliced cabbage
2 cups shredded carrots (3 large carrots from Trader Joe's worked. Each one was a different color - purple, orange and yellow)
1/2 cup thinly sliced green onions (4 large green onions)
1/2 chopped fresh mint
Dressing ingredients:Instructions:
Wash and slice cabbage to make 4 - 5 cups. Grate carrots to make 2 cups shredded carrots. It took three large carrots to do this. Chop or slice green onions to make a half cup. I had 4 large green onions for this. Then chop enough fresh mint to make half a cup. Combine all together.
Whisk the dressing ingredients mayo, lemon juice, lemon essential oil, sugar, ground cumin and JuvaSpice. You can always change it up and use an alternative sweetener or additional spices.
Combine all together for a large salad but if you want to only use half, store the salad mixture separate from the dressing and it will stay fresh longer. You might even want to store the mint separately tool and add it in when you're ready to serve.
I'm sure you will find this a pleasant dining experience if you have not ever tried it before!! It's good as a salad alone or topped with grilled chicken.
Happy dining, gardening and oiling!!
Cheryl @ Pickle Creek Ranch
If you are not familiar with Young Living or essential oils, click on over to
Seed to Seal
and see what makes Young Living so unique. If you would like to purchase any of their products you can contact me or go here>
http://bit.ly/1iBsmw9
Did you know you can get Young Living products at a 24% discount? I can show you how.