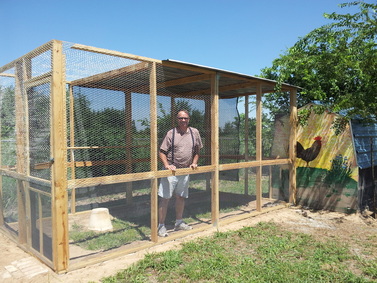 Do you have chickens in the country or in the city? Did you have any idea what you were getting into before you started raising chickens? It has been a learning experience and fun one at that!

Since we are moving to the country to be closer to the ranch, we have to get the chickens situated in their new home! Jan Paul worked tirelessly to finish up the coop and attached it to the henhouse that we had built from recycled materials.

We researched the amount of space each chicken needs to come up with a number for their space.

What we found was:
10 sq. ft. per chicken in the run (coop)
4 sq. ft. per chicken in the henhouse

Now, when they are contained, they will have enough room to be comfortable inside the henhouse as well as outside in the coop. They have two doors to go out of, one into the coop when the dog is out, and one to go into the yard, when the dog is in. Next we will build the dog's fence so they can take turns. Ha! They have shade cloth on the west side and a metal top on part of the coop. They have chicken wire and hardware cloth. They have roost stations inside the henhouse and roost stations inside the coop at different levels. There is play sand inside the henhouse and we will add more play sand outside in the coop, plus their pool while it is still hot. Who knew having chickens would require so much care? With all the care though, we will be blessed with lots of fresh eggs!

We are so happy that this is doooooone!! I think I will call this the Chicken-Mahal.