So you think essential oils are expensive? Well, generally a bottle of Young Living essential oil can cost anywhere from around $10.00 to over $200 dollars and that depends on the plant this oil was derived from, what part was used and how much was used. You may want to keep in mind, that a 5ML bottle holds 80-100 drops of oil and a 15ML bottle holds 250-300 drops. I know it looks like a lot of money for a little bottle, but that little bottle is very potent and it can go a long way!
One drop of peppermint oil is equal to 28 cups of peppermint tea and 5,000 pounds of rose petals are required to make
1 pound of pure rose oil, so you can see that the price is well within reason of what it takes to produce it. These are superior oils with excellent benefits. Fifteen different tests are performed twice on each batch of oil to ensure top quality, before that oil is filled into a bottle. See more about how oils are distilled at the
Young Living farm in Mona, Utah
.


The Premium Starter Kit is made up with every day oils for things we encounter every day, like a sore muscle, or the occasional blemish, or itchy eyes, or in my case a dog that gets sprayed by a skunk. It is exciting to learn how plants have been used to make oils that will help us maintain our health.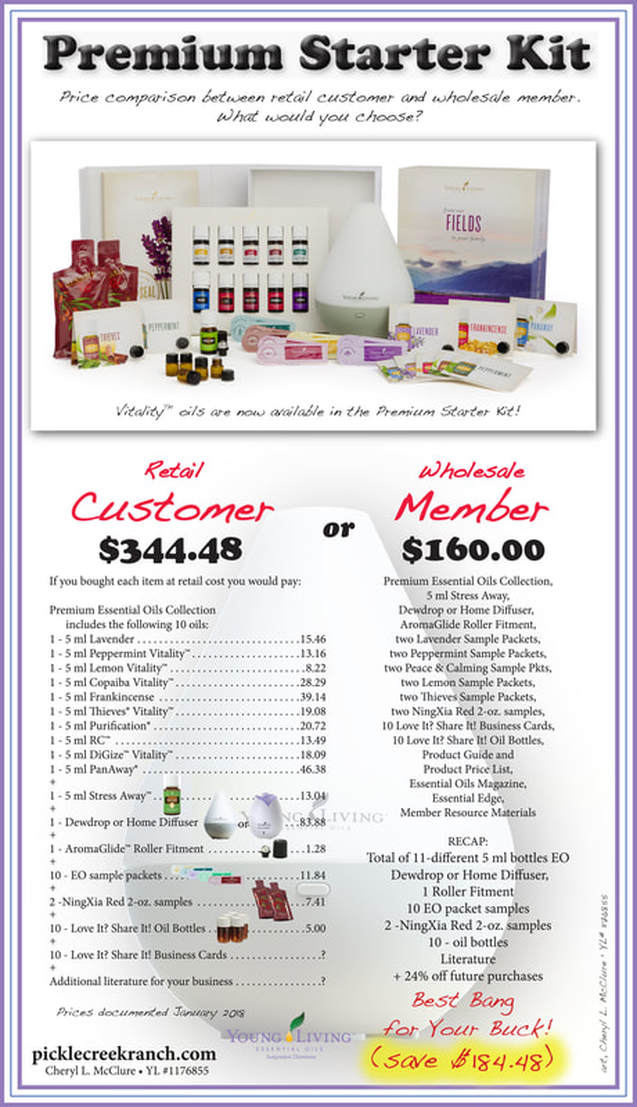 Essential oils are not made to pour on the body like you would a lotion or cream. They are therapeutic and pure, therefore only a tiny amount is needed per application when used topically, diffused in the air or even internally. One to three drops is all it takes for results to occur. Example: I got stung by two yellow jackets last summer and I put ONE drop on each sting which supported my integumentary system (which includes the epidermis). I definitely have this one accessible when my grandkids are visiting the ranch.
When you buy something like a linen spray at the store and spend a minimum of $10.00, that bottle is mostly WATER and possibly a little bit of fragrance like Lavender or such (not pure essential oils). And remember we are talking about therapeutic grade essential oils that have a health benefit and is not toxic.
Example: When I make my "Air Spray", I use 10 drops of essential oil in a 4 oz spray bottle of distilled water. I also use my Air Spray to enjoy the outdoors and it's easy enough to spray on my ankles or clothes. This is great especially when we go for walks at the ranch. At 6 cents a drop, of Purification (at wholesale), and a spray bottle that costs a dollar. I have spent less than $2.00.
When our dog got sprayed by a
skunk
, we used the Air Spray on him a few times and on the front porch a few times to clear the air and get rid of the smell, pronto.
The oils are non toxic, and they smell good too. They don't cover up a smell, they basically eliminate it!
Buying a
Premium Starter Kit
is great place to get started and experience the oils. If you need my assistance, I will be happy to help you. Young Living Member #1176855
So what do you think? What's the
best bang for your buck
?
Happy Oiling!
Cheryl
www.picklecreekranch.com